Host a Screening/Buy the DVD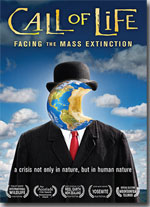 The Call of Life DVD is available for home and community screenings, and for classroom use to help raise greater public awareness about the growing threats to species and ecosystems worldwide, and to encourage action to reverse this destructive trend. The DVD includes two versions of the film -- 60 and 80 minutes in length.

Choose one of the options below depending upon the type of screening you'd like to organize. We'll send you the DVD, a link to list your screening on our Find a Screening page, and a link to a downloadable screening guide and publicity materials to help plan and promote your screening.

Contact us for any help you might need: support@videoproject.com or 800-475-2638.

---
Home Screening




PRICE: $29.95


DVD with license to host small free screenings for 1-25 people. For larger public screenings choose an option below.


Admission Free Community Screening




PRICE: $89


DVD with license to host public screenings for up to 100 people where no admission fee is charged.


Fundraiser Community Screening




PRICE: $150


DVD with license to host one public screening for up to 100 people, with permission to sell tickets or otherwise raise funds.


5X Community Screenings Package




PRICE: $350


DVD with license to show the film publicly on up to five different dates to crowds of up to 100 people at each screening, with permission to charge admission or conduct fundraising.


Very Large Community Screenings




PRICE: To Be Determined


If you wish to show the film publicly to a crowd of more than 100, or purchase more than five screening licenses, please contact us at support@videoproject.com. We encourage big screenings and multiple showings but need to determine the fees on an individual basis.



School, College, Library or Institutional Use



For license to use the film in a school or college classroom, a public library, business or government agency you must purchase this version from our distributor, The Video Project.